Hisense relies on FD&L for spare parts management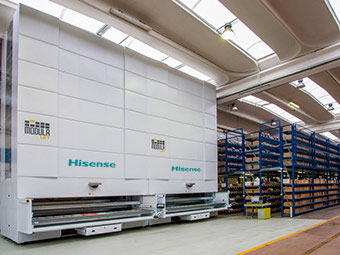 Thanks to the Italian company FD&L Fast Deliveries&Logistics, Hisense Italia assistance centers enjoy an even more efficient logistics service, with rapid, safe and precise management of their spare parts: numerous advantages of outsourcing for the entire supply chain. Hisense Italia is the Italian branch of Hisense International, the Chinese multinational currently among the world's leading manufacturers of flat screen televisions, household appliances and mobile communication devices.
Hisense products are sold today in over 130 countries, with sales of $27.2 billion in 2021; the Italian market has been reporting constant and strong growth for several years.
«In FD&L we have identified the ideal partner for the management of our spare parts logistics: from the storage of the material, to picking, up to the preparation of the shipment and its distribution. The advantage is that of having a single interlocutor from logistics to distribution, thanks to the consolidated partnership of FD&L with SDA Poste Italiane» says Marco Bossi, Service Manager of Hisense Italia Sri.
Furthermore, the use by FD&L of the most modern and sophisticated logistics software, interfaced with the management of Hisense Italia. has made it possible to speed up the entire supply chain of the shipment of spare parts orders. «the integration between distribution and logistics allows us to have a single interlocutor and our customers, mainly the assistance centres, to receive spare parts within one working day from the date of the order: thanks to this organization, we are able to fulfill 98% of orders within 24 hours» concludes Bossi.